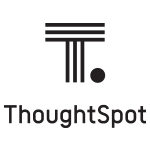 ThoughtSpot
 is the next generation analytics platform that makes analytics accessible for every business person through the power of search & AI. It is simple and smart, delivers speed at scale and enables business people to use an easy, natural search experience to analyze company data in seconds and get trusted AI-driven automated insights in a single click.
The platform is domain-agnostic and businesses ranging from healthcare to retail, banking to travel, and insurance to education are using ThoughtSpot to deliver business insights and data correlations through natural language conversations and its SpotIQ engine to deliver answers to known & unknown business questions through AI-driven, push-based insights. Within a few hours, you can connect with several enterprise data silos, prepare & model data, set up security rules and enable guided search experiences that can scale across billions of data records and unlimited users.
Persistent Systems is a reseller and implementation partner of ThoughtSpot since 2017. By leveraging our experience in delivering intricate Data Analytics, BI Reporting and Data Science projects, we offer ThoughtSpot's technology to IT and business organizations and help them deliver complex self-service analytics and insights at speed.
Persistent offers the following programs to enable organizations to embark upon their data driven digital transformation journey:
Introduction to Search & AI-Driven Analytics:
This session is well-suited for technology, data, IT and line-of-business leaders who want to empower their users (employees, partners, customers) with the ability to ask questions and get answers based on business data, with zero training and zero data engineering support.
Workshop to Help Plan the Search & AI-Driven Data Analytics Journey:
This is well-suited for enterprise leaders who have identified data initiatives or data-driven business objectives and would like to learn how ThoughtSpot's Search & AI-driven analytics platform can leverage their data to deliver improved user experience and business objectives within days rather than months.
Fast-start Proof of Value:
This program is well-suited for organizations that have defined & budgeted data projects and want to evaluate the speed and capability of ThoughtSpot's Search & AI-Driven Analytics solution.
Implementation and Adoption of ThoughtSpot:
This program is applicable for organizations that have decided to implement the ThoughtSpot platform. In order to leverage AI-driven self-service analytics capabilities and to deliver business value to internal and external stakeholders, the underlying raw data must be identified and ingested into ThoughtSpot for necessary modeling and analytics. This is a process-intensive exercise and Persistent offers the below service capabilities to its customers:
Data discovery, preparation, quality assessment prior to ingestion & indexing in their platform
Certifications as they are embarking on interoperability with several data platforms from Snowflake to Amazon and more
Industry specific applications (where we have expertise, like BFSI, healthcare, manufacturing, hi-tech) on top of their APIs